Selection, Open and National Sprint Regatta – 30/31 March
The first of this year's National Sprint Regattas took place this weekend up at Nottingham. A small group of club members took part, achieving some good results across the board. Saturday provided us with a beautiful, sunny day with the lake like a millpond with a slight headwind. Sunday proved far more challenging with a strong tailwind providing lots of waves out on the course.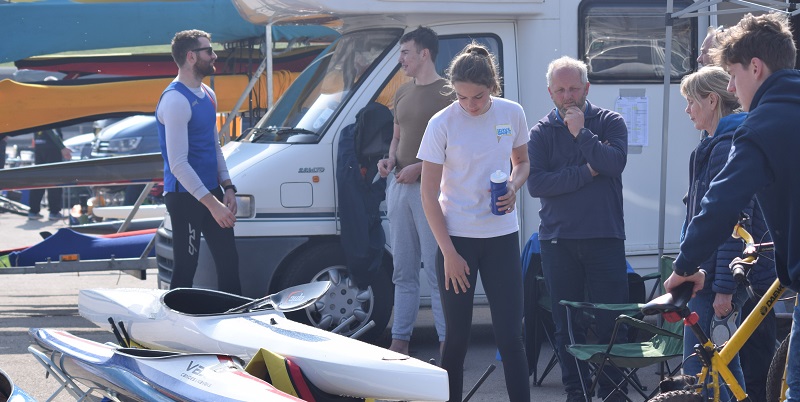 Below are the provisional results. Promotions/demotions will be published at a later date.
SATURDAY RESULTS
1000m K1 Boys Open – Dan 6th in his heat; 7th in Final 3
1000m K1 Girls C – Mollie 3rd in her heat; 6th in the Final
1000m K1 Mens C/Masters B – Edd 2nd in the Final
500m K1 Girls Open – Flossie 4th in her heat; 1st in Final 2
200m Boys Open – Dan 7th in his heat
200m Boys D – Charlie 3rd in his heat; 7th in the Final
200m Girls C – Mollie 7th in her heat; 7th in the Final
200m Mens D/Masters C/D – Reeve 1st in his heat; 1st in the Final
200m K2 Girls A/B – Flossie and Becky (Reading) 4th in their heat; 7th in the Final
200m K1 Mens C/Masters B – Edd 4th in the Final
200m K2 Girls C – Mollie and Georgie (Reading) 7th in the Final
SUNDAY RESULTS
500m K1 Boys Open – Dan 5th in his heat
1000m K1 Girls Open – Flossie 5th in her heat; 9th in the Final
500m K1 Boys D – Charlie 1st in his heat; 4th in Final 1
500m K2 Girls C – Mollie and Georgia (Reading) 5th in the Final
500m K2 Girls A/B – Flossie and Becky (Reading) 3rd in their heat; 6th in Final 1
500m K1 MensC/Masters B – Edd 3rd in the Final
500m K4 Boys C/D – Charlie (with Banbury paddlers) 5th in the Final
500m K1 MensD/Masters C/D – Reeve 2nd in his heat; 3rd in the Final
500m K1 Girls C – Mollie 7th in her heat
500m K4 Boys A/B – Dan (with paddlers from 3 other clubs ) 7th in the Final
DATES FOR FORTHCOMING REGATTAS
28/29 April; 1/2 June; 29/30 June (Inter-Club Regatta); 31/1 September
Thanks to Reeve for the photos