Devizes 'B' Race 2019
DCC held a Test Hasler at Chippenham Canoe and Sailing Club on Sunday 19th May.
87 paddlers took part. There was a good mix of boats amongst the 67 on the river including Lightings, junior K2s, 5 canoes and K1's and K2's, and a range of ages from 9 up to those who probably ought to know better. There was a good contingent from the Club and from Gloucester Canoe Club, Bradford on Avon, Wiltshire Youth and paddlers from Newbury, Oxford, Fowey and other Clubs.
First off were the Juniors, Arthur and Cameron finishing 1st in the Under 12 Mini k2 in their second paddle in a K2.
The K2 Div 9 Race saw a hectic start with C2's all over the river, Ian and Tereza ending up victorious in the C2 class and 3rd in Div 9. The pre race favourite was delayed having stopped to rescue another Club paddler though eye witness accounts suggest there may have been a racing incident first….
In Div 6 K1 Neil won his first Hasler race, and in Div 5 K1 Mollie was 5 minutes up on her nearest competitor and in Div 3 K1 Dan won by just over 10 minutes.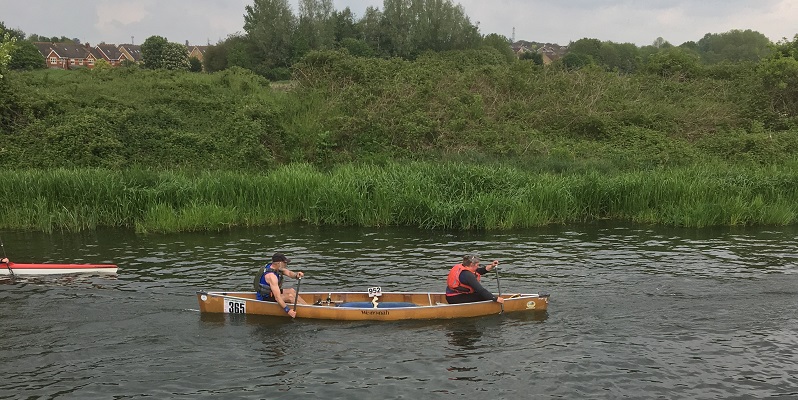 There were a lot of comments after the race about the course, in particular the scenic portage which was a bit longer than some competitors were expecting.
And the slightly tricky get in, which claimed several shoes, was widely appreciated.
Congratulations to all the winners and thanks to all the competitors who came along to race and to try out the course. The feedback we've had so far suggests that we might be able to make this an annual event and to run it as a full Hasler Race.
Thanks to Chippenham for their facilities and competitors food, to those supplying essential cake and teas, and to the marshalls, the race organizers and the start and timing crew (including Emma for coming up from Fowey to help) and the other unsung heroes who helped organize and run the event.
Full results can be found here