DCC 10th Anniversary Fun Day
The Club celebrated it's 10th Birthday with a Fun Day at Lower Wharf on Sunday afternoon.
There was a display of photos of Club members and activities over the last 10 years which stirred some memories (the snowy race and training shots contrasting nicely with the scorching weather!).
The ergo challenge featured both a kayak and a canoe ergo, though the winning efforts relied largely on brute strength and what might be called a flailing technique.
The balance ball became a matter of patience, and eventually Nigel resorted to time limits and then getting people to stand on it on one leg.
The barbeque as usual went down well – and the cake stall as usual with paddlers did good business. (Photo taken during a rare lull in business….)
The feature event was the canoe tug of war, with 9 teams coming forward. In the first round the pre event favourites from the Epic Tri found that brute strength alone might not be enough and comprehensively sunk.
Most other teams managed to stay afloat, though there were some close calls and everyone got damp (some damper than others!)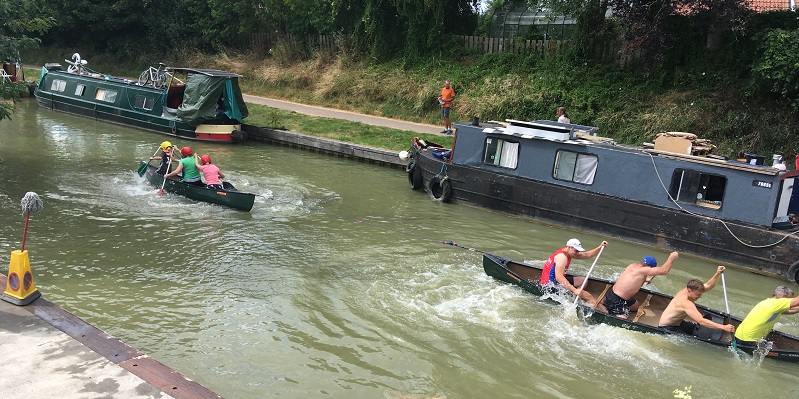 The eventual winners, pictured below, were awarded their medals by Trev who umpired the event with scrupulous fairness (and appeared to be one of the few present with some idea of the likely consequences of getting 4 people to paddle a canoe flat out while being pulled backwards).
And inevitably many of the Club's younger members (and some who ought to know better) ended up in the water. Here's hoping that the medicinal cans of coke did indeed kill off any lurking bacteria.
It was a great event, very well attended and enjoyed, and many thanks to Sue and to the many volunteers who helped set up, donated cakes, ran stalls and competitions and made teas then helped to clear up afterwards.
Here's to the next 10 years!